At the New Zealand River Awards on Thursday night (3 November 2016), the Maketawa Stream took out the Award for the most improved river in the Taranaki Region and, more significantly, was the third most improved river nationally based on the trend in improvement in the macroinvertebrate community index (MCI). The index is a valuable indicator of general river health.
The Awards are organised by the NZ Rivers Trust and Morgan Foundation, and were held in Wellington. 
The Maketawa Stream showed a trend improvement in the MCI over the past 10 years of 2.5%pa.
 The monitoring site for this stream is well downstream from Egmont National Park. The surrounding land use is predominantly dairying.
The Maketawa Stream represents the general improvement in Taranaki's freshwater in the past two decades. Taranaki Regional Council monitoring for the past 20 years shows ecological health is either significantly improving (39% of sites) or not showing any significant change (61%) at all 57 sites monitored on 25 waterways across the region.
The stream cuts a deep path through the land leaving tall, steep banks in places which in some stretches have acted as natural stock barriers.
Around 88% of the stream with adjoining farmland has been fenced, and 75% has been planted.
There are no water takes from the stream, and while a very small number of farmers still discharge treated dairy shed wastewater to the stream the number doing so has declined over the past decade helping to raise the MCI.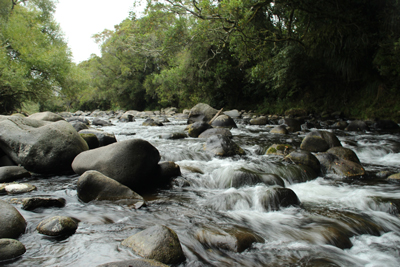 Maketawa Stream