Principal Water Quality Scientist and LAWA 'Can I swim here?' Project Lead Anna Madarasz-Smith has some swim smart advice for summer 2020:
"Water quality changes, so over summer environmental officers from New Zealand's 16 regional and unitary councils regularly monitor popular swim spots. The results are published on the LAWA website as soon as they are processed. I encourage swimmers to check LAWA for the latest recreational water quality results for sites in their region, along with historical data, local conditions, and other info to help them decide where's good to swim
"As we head towards the summer swim season, we're reminding people to wait two to three days after heavy rain before swimming outdoors. This applies to all sites; because even swim spots that usually have great water quality can be affected by pollutants in stormwater run-off. It's also important that swimmers check for potentially toxic algae at freshwater sites before they dive in.
People can also do a visual check of the water (is it dirty or clear, are there animals including birds nearby?). A good rule of thumb is if you can't see your toes in knee deep water, find a clearer spot to swim," said Mrs Madarasz-Smith.
How suitable for swimming are monitored swim spots?
Last swim season, monitored coastal sites were suitable for swimming 93% of the time with caution advised 3% of the time. Over the summer, coastal sites were unsuitable for swimming 4% of the time.*
Last swim season, monitored freshwater (lake and river) sites were suitable for swimming 75% of the time with caution advised 12% of the time. Over the summer, freshwater sites were unsuitable for swimming 13% of the time.*
*Summary of actual faecal indicator bacterial test results (excludes predicted results) between 1 November 2018 and 31 March 2019 from monitored recreational bathing sites supplied to LAWA.
'Can I swim here?' in a nutshell
The LAWA 'Can I swim here?' online tool uses a traffic light system of red, amber, and green to show the health risk of swimming at a chosen site. Green means suitable for swimming, amber means recreational water quality standards have been met but caution is advised for the very young, elderly, or people with compromised health, and red means the water is not suitable for swimming either because the risk of infection or exposure to potentially toxic algae is too high.
In addition to water quality data and warnings, there's extra info that will help keep families safe and discover great swim spots, including local weather, tides, surf, water temperature, and whether the beach is patrolled by lifeguards. 'Can I swim here?' also lists site recreational activities and facilities.
Other water safety resources:
When it comes to keeping you and your family safe around water this summer, here are some other great resources. 
Water Safety New Zealand: watersafety.org.nz
Maritime New Zealand: maritimenz.govt.nz/recreational
Surf Life Saving New Zealand: surflifesaving.org.nz
SunSmart: sunsmart.org.nz
Swim Reaper: swimreaper.co.nz
'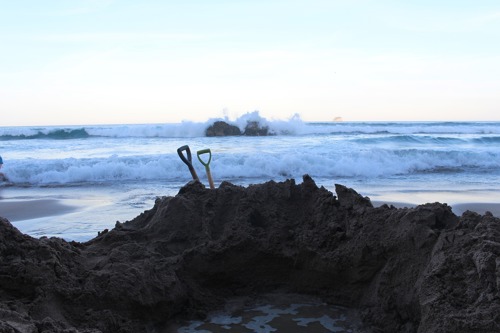 Image: Hot Water Beach, Coromandel