Small structural modifications made to Pykes weir will produce a big impact for fish in the Te Arai River.
Aquatic life now have an easier passage to travel for spawning and growth.
Pykes weir has been a barrier to fish passage and migration leading to lower fish numbers in the river.
A survey was completed last year that showed there was a gap where juvenile fish were not present above the weir, and there were much fewer adult fish in the habitat upstream than was expected.
Council have been able to modify the concrete construction of the intake weir and several fords downstream, with help from local Dean Hawkins and Tairawhiti Environment Centre fish specialist, Jamie Foxley.
Mr Foxley says the Te Arai has small populations of two galaxid (whitebait) species not recorded anywhere else in the Waipaoa Catchment; koaro and short-jawed kokopu.
"These species are found in the pristine headwaters at Waingake Waterworks Bush.
"Hopefully these barrier modifications will mean numbers of these fish, as well as other taonga species like long-finned tuna (eel) can increase," says Mr Foxley.
Council shared services science manager Lois Easton says Council are improving the spawning habitats and fish passage for native fish in a number of areas.
"The Pykes weir is one of many barriers in the Te Arai River so we've modified the weir for smoother flow downstream and installed baffles and mussel ropes to break up the flow that'll allow fish to swim and climb upstream.
"Fish need to go both ways to reproduce, feed and grow."
The modifications were fitted with funding from Horticulture New Zealand, Wi Pere Trust, Leaderbrand and Integrated Foods Limited.
"We identified 14 fords along the river that concentrated the water flow through a small space, had a steep drop or didn't allow fish to travel back up once they were downstream," says Ms Easton.
"We've retrofitted these too, which is in time for the Inanga (whitebait) spawning season at the end of May and for the juvenile fish returning upstream in spring."
Council's environment and water utilities teams began the refit in January and completed work at the beginning of the month, with help from Rongowhakaata conservation representative, Dean Hawkins.
Mr Hawkins says he's impressed with the approach by Council staff and the work being done to enhance the environment for aquatic life in the river.
"As tangata whenua we want a healthy awa (river) which we know will take time to achieve, but this work is a positive step towards that goal.
We will continue working proactively with council to help monitor native fish numbers and water levels.
Further surveying will be completed later in the year and will be ongoing to determine if there's been a positive trend in fish numbers.
Water takes for irrigation from the Te Arai headwaters over the summer months is still a challenge for the river ecology.
The upgrade will also allow improved monitoring of water flow levels for regulating water quantity under the regional freshwater plan.
Council will continue looking at culverts and removing barriers in other areas throughout the Gisborne region.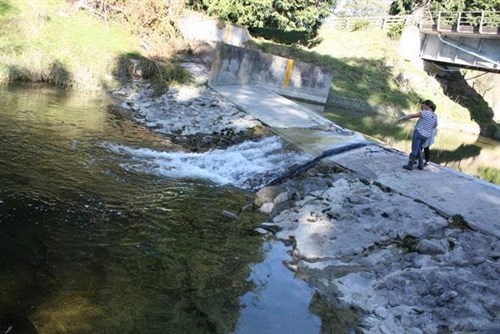 For more information
More information about fish passage can be found at www.doc.govt.nz/nature/habitats/freshwater/fish-passage-management (external link)
For information about installing new culverts and best practice guide see our webpage Freshwater fact sheet - rules for culverts