National weekly water allocation has increased by a third between 1999 and 2010. If the Manapouri hydro take in Southland is excluded, allocation (to uses such as irrigation) has nearly doubled since 1999, and increased by 10 percent from 2006 to 2010.
Between 1999 and 2010, the largest increase in allocated volume was in Canterbury with a growth of 98.2 million cubic metres allocated per week (65 per cent change).
The highest percentage increase in more recent years (2006–2010) has occurred in
Manawatu-Wanganui (51 per cent) followed by Northland (41 per cent).


Changes in regional weekly allocation (Mm3/week) between 1999, 2006 and 2010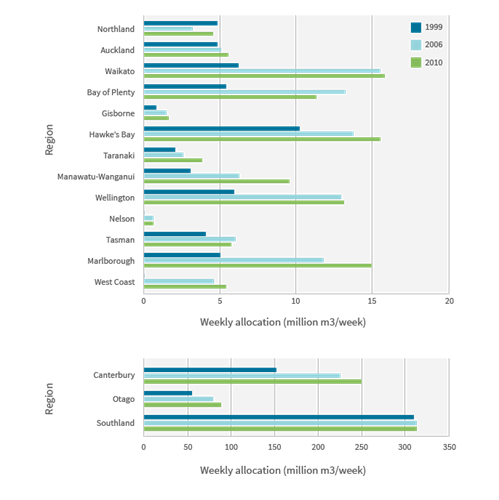 Data source: Ministry for the Environment.
The increase in total water allocation in New Zealand since 1999 can largely be explained by the increase in demand for irrigation. The amount of land irrigated by consented water takes has increased by 82 per cent between 1999 and 2010.