This site brings together environmental monitoring data from all of New Zealand's regional councils, unitary authorities and NIWA, as well as presenting information provided by the Ministry for the Environment.
At the moment, you can view information about:
the quality of our rivers, lakes and beaches
water quantity data including water use, live river flows, and rainfall and groundwater levels
air quality
 In time, other data on our biodiversity and land resources will be added.  Learn more about LAWA.
Measuring water quality, water quantity and air quality is complex so we've created a learn section to help you better understand what's going on in our air and waterways. Here you'll find a series of factsheets and a comprehensive glossary to explain the technical terms used on this site. There are also explanations for terms provided throughout the site through the green links and question marks.
Let's get started!
To begin you need to decide whether you want to look at information for air quality, freshwater quality (rivers and lakes), water quantity, or beach water quality. You can do this by clicking on the Explore Data section and selecting a topic. 
If you're interested in a particular region, use the map to the left to select a region's section where you can see the topics available for that region and read about news and events relevant to that region.
Air Quality 
 You can view data on air quality at a region, town or site level. To view the air quality data for a region, simply click on the region you wish to view to see how levels of particulate matter in the air (PM10) vary between towns in this region.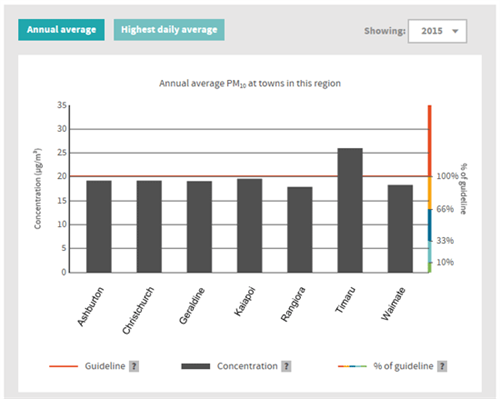 The towns tab allows you to see a breakdown of where PM10 emissions come from for the selected town, and how the PM10 values vary on a monthly basis over one year.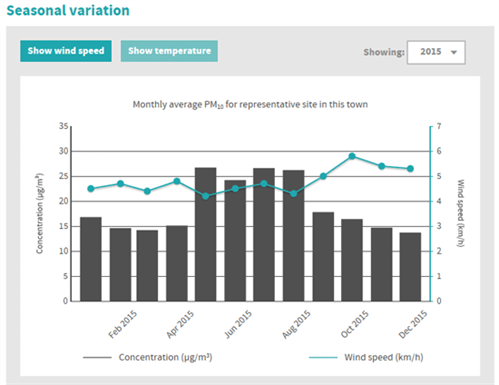 Temperature and wind data are also shown as these often influence the concentration of pollutants in the air.  
The sites tab shows you all the air monitoring sites in the town, and you can choose a site to see how the scientific indicators for air quality (e.g., PM10, PM2.5 nitrogen dioxide, sulphur dioxide, ozone etc.) change over an hourly, daily, monthly or annual basis.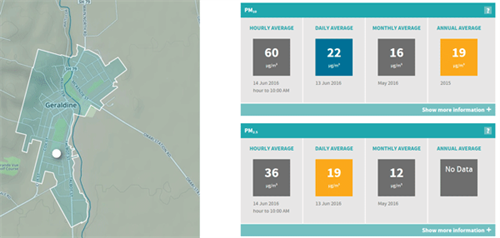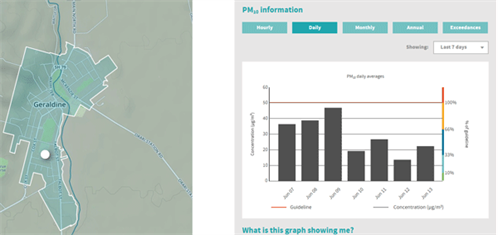 Scientific indicators for air quality are compared against guidelines.  These are shown as the red line on the graphs.  You can view a factsheet for more explanation on the guidelines used for monitoring air quality in New Zealand.
Freshwater data - rivers
You can view data on river water quality at a region, catchment or site level. To view the water quality data for a region, simply click on the scientific indicators tab: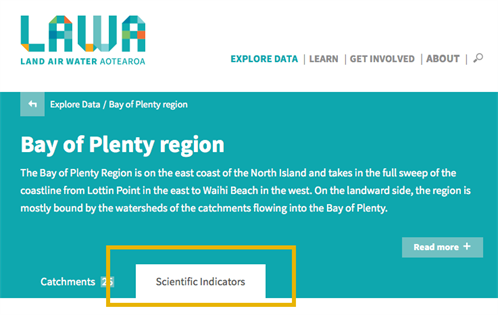 The scientific indicators tab on a region page
Here, you can see the state and trend data for E. coli, Clarity, Nitrogen, Phosphorus and pH . Click on any one of these parameters and you can see where the region sits in comparison to others (State) and whether the site is improving, degrading or staying the same (Trend):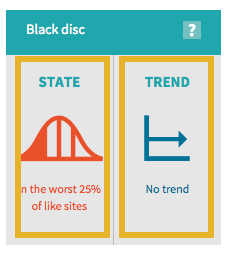 A dashboard indicator showing state and trend for  water clarity (black disc) for the region.
When you click on a the State part of the parameter you will also see the regions on the map change colour showing the State of other regions for that particular parameter: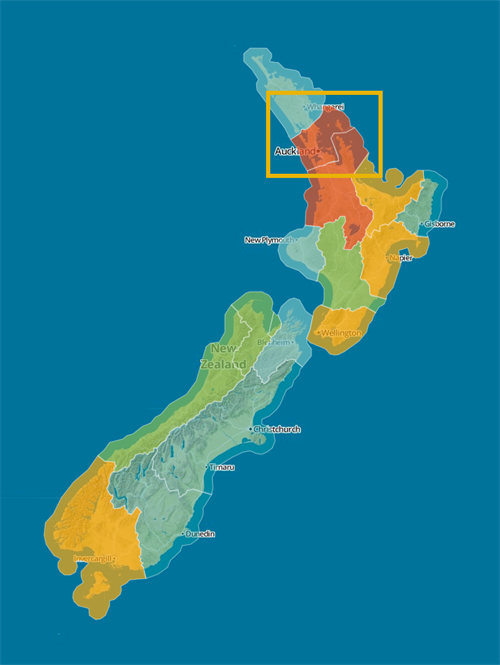 The map showing comparison across regions.
You can also look at this information at a catchment or even site level in the same way.  Click on the 'catchments' tab or use the map to drill down to catchments and sites.
At the site level you can view the monitoring history for each indicator. Simply select the timeframe and the graph will automatically generate. Data can also be downloaded as a .csv file.
Recreational Information
Freshwater data
For some freshwater sites, information about recreational water quality is available. For most recreation sites there are two indicators presented - an Overall Recreation Risk and a Summer Season Monitoring result.
The Overall Recreation Risk is a guide to give a general picture of water quality at a site. Updated annually, it is calculated from bacteria (E. coli) data collected over the last three years. The Overall Recreation Risk indicator is a precautionary approach to managing health risk and it not designed to represent health risk on a particular day. As such, a site can have an Overall Recreation Risk of 'High' but still be suitable for swimming some of the time.
Many councils also provide the results of their weekly monitoring. This lets people know what the most recent bacteria levels were. Remember, even sites with low risk can be unsuitable to swim from time to time and we recommend that you avoid swimming for 48 hours after heavy rainfall. 
 Be aware that swimming suitability does not give an overall picture of water quality, for this you'll need to look at the scientific indicators tab.
Coastal Recreation Data
LAWA currently presents data on recreational water quality at approximately 350 beaches. To view this information choose the Coastal topic and select the region you'd like to look at. 
The data presented follows the same format as the freshwater recreational information.  View a factsheet for more explanation on recreational water quality monitoring